We are witnessing the storm of the century!! I just hope that people were prepared. Our thoughts and prayers are with those affected by this.
—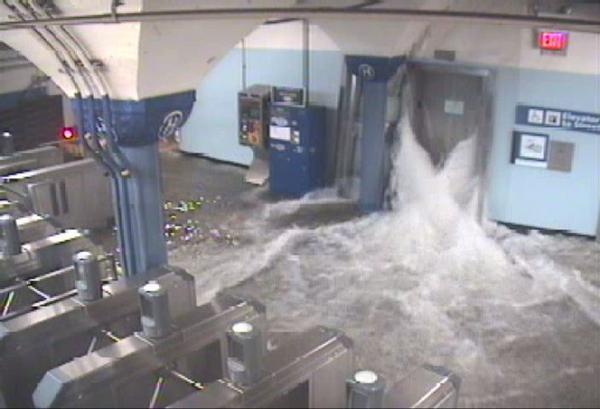 Port Authority NY&NJ @PANYNJ Flood waters rush in to the Hoboken PATH station through an elevator shaft. #Sandy pic.twitter.com/QosgFyOI
—On 
CNN
, 
Erin Burnett
, is walking through several inches of water, and it's still rising. Here's a shot from 
Twitter Bill Karins
:
And here's an amazing shot from @AlexSilverman of a grocery store near Battery Park (which happens to be where I frequently shop)
Foursquare's Dennis Crowley tweets: "Knee deep on 8th"
Below are some pictures of unverifiable origin. We can't confirm which ones are real. We've seen corrobrations of them, and denials, so just know that they're being passed around.
Carlos Whitt tweeted this picture, which is at 14th and Avenue C (not near The Battery).
This picture is making the rounds on Twitter, and it's supposedly the Lower East Side. We can't confirm that it's real.
Here's another shot that is said to be 14th Street and Avenue C:
From Chase Cain on 1st Avenue:
From Anupreeta Das, 22nd Street and 10th Ave.
Seawater is flooding into the Brooklyn Battery Tunnel:
The FDR Drive:
This is supposedly video of a PATH station flooding…  We've seen reports that it will take many days to a week to get the subways pumped out.
—
Instagram user Nick Summers posts an amazing shot of the West Village in darkness: "And the lights go out in the Village."
—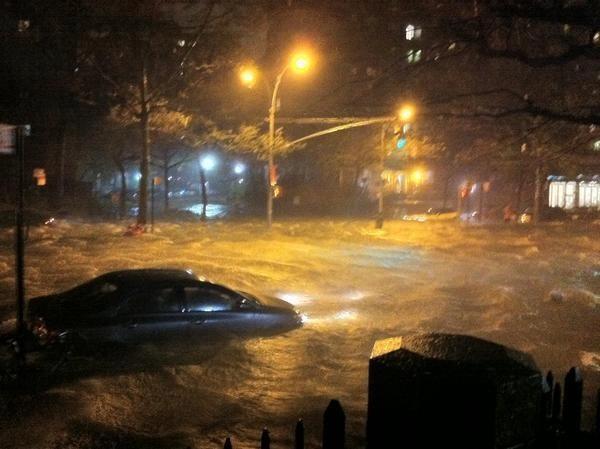 Lower east side of manhattan right now: #thisisnotajoke pic.twitter.com/e14I7VFV
—
Once the surge levees break, the water level just soars and covers everything in a "reverse Titanic" as the following pictures demonstrate:
FDR Exit 4 (via Krysten Gwynne):
Avenue C and 13th Street (via iWitness Weather):
Lower East Side:
VA Medical Center on East 23:
Real time traffic came showing how flooded the intersection at West and Canal is:
The Brooklyn-Battery Tunnel is flooding… (via @NewsBreaker)
The Belt Parkway fully underwater
@IvankaTrump looking down Park Avenue
Stunning view of the lower manhattan black out (via @nicksummers)
and downtown manhattan from the promenade! (via @alananewhouse)
Feeling lonely? Tribeca power out and a lone cop car (via @wolfejosh)
LIC is underwater – flooding reaching 5th street (via @jimmyvanbramer)
Hoboken… (via @TaraFied87)
14th Street Transformer exploding! (via @georgeweld)
Battery Park is now flooded (via @anthonyquintano)